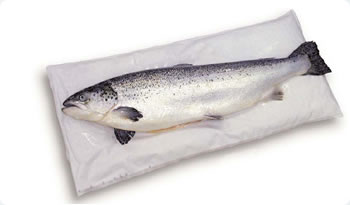 Aproved by:
| | |
| --- | --- |
| Food: | Normpack |
| | Matforsk |
| Freight | SAS Cargo, Oslo |
Premium products for Food packaging
AquaLift is our range of environmental friendly standard and customized products for the Food packing and Transport industry. The standard product is originally designed and used for fresh, iced fish, shipped by air around the world. In this application a high level of security is required. Both when it comes to zero ice water spill in the aircraft and a food contact approved absorber you can sleep well using AquaLift.
Aqualift is also a cost efficent and easy disposable absorber for Plumbers, Animal transport cages, when Defrosting your fridge etc.
Order you free sample here: info@liquidkeep.se
Download product specification